I started making drumsticks for myself about 25 years ago because I was somewhat unhappy with what was commercially available at the time. I began selling the sticks to others about 17 years ago and over time I have developed several models of sticks. I divide the sticks I make into three different categories, Warm-Up/Chop Building Sticks, Concert Sticks and Drum Set Sticks.
New!!! Cocobolo Rosewood Sticks
For a limited time, I will be offering beautiful Cocobolo Rosewood sticks in my barrel tip and reverse tip models. These are heavy sticks with a range of 70 to 95 grams. The sticks start at $100 a pair. Here are some pictures.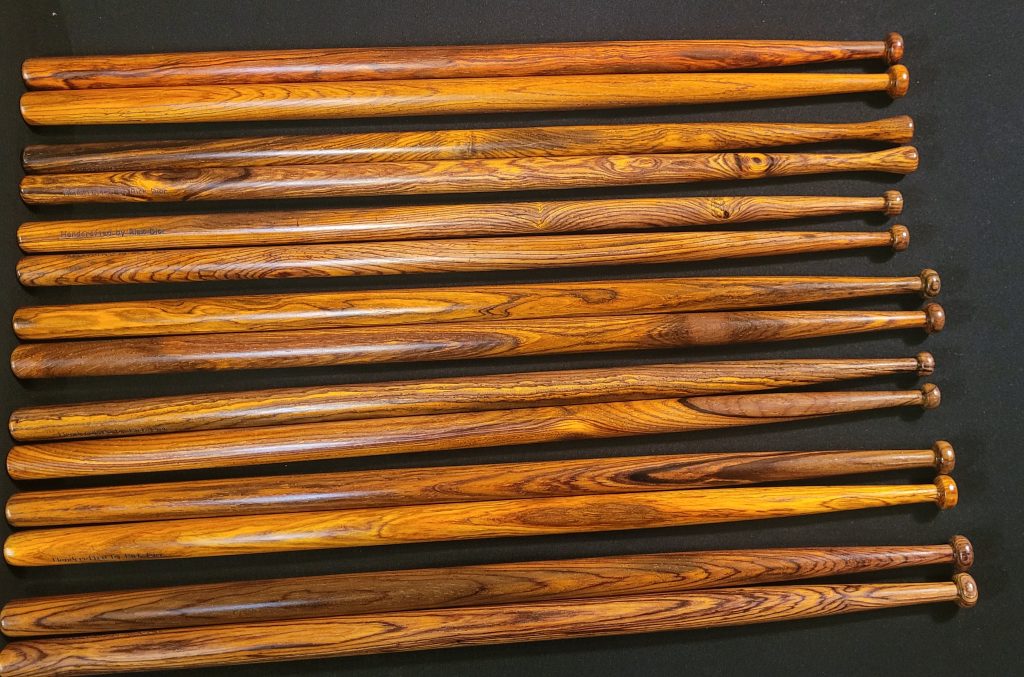 Warm-Up/Chop Building Sticks
A heavier stick will give you more rebound (bounce) and aid in muscle development in the hands and forearms. These sticks are heavier in weight than a normal concert stick. They range in weight from 76 to 87 grams. The shafts of the sticks average 5/8″ which is very close in diameter to a standard 5A. I can also make a special-order stick with a 3/4″ diameter. The length ranges from 16 1/4″ to 17″. I get the extra weight from the heavier woods I use. These include Leopardwood, Bloodwood, Black Wenge (rarely), Bubinga, Tigerwood, Yellowheart, Pecan, Purpleheart and Hickory. I use the heartwood (center of the tree) from these species to give the stick more weight and density. You can also use these sticks for marching band and drum corps playing. These are the most expensive sticks I make since the heartwood is scarce in these species. They are available with barrel tips (large and medium), and reverse tips. See below for pictures of the different tips. The price for these sticks is $65 to $80 per pair depending on the wood species. Scroll to the bottom of this page to see pricing and other ordering information.
Concert Sticks
These are performance sticks meant for playing orchestral and rudimental snare drum although many of my customers prefer the heavier sticks above for rudimental work. The concert sticks range in weight from 60 to 75 grams. They are available with barrel tips (small, medium and large) reverse tips and custom teardrop tips (Scroll down to see some different tips). The length ranges from 16 to 17 inches and the diameter ranges from 1/2″ to 5/8. I use many wood species for making these sticks. You can see the list of woods available below. Prices range from $50 to $80 depending on the tip and wood species. Scroll to the bottom of this page to view pricing and ordering information.
Drum Set Sticks
Vic Firth makes me a signature stick that I designed around 30 years ago. I experimented for many years trying to find the perfect sticks for my set work but was never fully satisfied. I finally decided to design a stick made up of the most desirable parts of several of the models I was fond of. The result was a stick that has a great cymbal sound, a solid weight, the perfect length (for me) and a comfortable diameter. They are not available to the general public from Vic Firth but you can purchase them from me. They are available in Hickory at $16 (weight is 63 -69 grams) as well as Maple at $14 (weight is 55-62 grams). They are 16 1/4″ long, 5/8″ in diameter with a slightly elongated bead tip and a short taper. The sticks were designed to have great articulation on thinner darker cymbals (such as the old K's). Scroll to the bottom of this page to view more pricing and ordering information.
You can see a Youtube video about these sticks here
Wood Characteristics
Since wood is a natural material, it varies widely from species to species in characteristics. Some woods do not work well for making good drumstick. They can have the undesirable qualities of being too light, too heavy, too rigid, vibration prone, too brittle, etc. I have worked with many different woods over the years and have zeroed in on the following woods for the positive qualities when used for making sticks. That being said even the good stick woods all have different characteristics. Here are some of my observations that might help you make your purchasing decisions.
Black Wenge– This gorgeous African hardwood can be excellent for drumsticks as long as the heartwood is used. The sapwood tends to be too light and uneven in quality for matching pairs of sticks. It is a difficult wood to work with on the lathe because of the wide, coarse grain involved. It typically takes a longer time for me to make a pair of Black Wenge sticks since there is a lot of sanding involved. Thats why you don't see anyone else doing it. This wood is listed as endangered so I will not be purchasing any more of it. The Wenge I use now is 25 years old and was purchased before the wood was listed as endangered.
Bloodwood– This very dense South American hardwood is an attractive dark red in color (especially the heartwood). If not made to a very specific diameter vs. length equation the stick will tend to vibrate and hum (have a pitch when played on a practice pad). The Bloodwood sticks I make are a little bit thicker than some of the other species I use.
Bubinga– This African Hardwood is easy to work with and the heartwood can make a great heavy stick. The sapwood tends to be unpredictable and uneven, so I do not use it. The reddish streaks in the heartwood are very attractive. This is a special-order stick and while I keep the heartwood in stock, I do not keep any completed Bubinga sticks in stock so allow extra time for delivery.
Cocobolo Rosewood– This is one of the most beautiful woods on the planet and I will be offering it for a limited time. It is heavy and dense at 70 to 90 grams per stick. I use mostly heartwood and the colors range from browns, yellows, golds, blacks and purples all in one stick as seen below. It is swirly wood grain magnificence at its best!
Hickory– North American Hickory is a great wood for drumsticks. Not particularly attractive Hickory has all the other characteristics that make it a good wood for sticks. It's relatively inexpensive, durable and readily available. It also has a very wide weight range from 60 to 90 grams, (the heartwood can be very heavy).
Leopardwood-One of my favorite woods for making drumsticks, this South American hardwood is beautiful with flecks of figuring that resemble the spots of a Leopard and really show when the wood is quartersawn. Leopardwood ranges in weight from 64 to 85 grams with the heartwood being the heaviest and darkest in color. The sapwood is a bit lighter in color and weight and makes a great concert stick.
Maple– While I do not currently make my own sticks from maple my Vic Firth Signature sticks are made from this wood (as well as Hickory). Maple is readily available and inexpensive. I consider it a disposable wood and that's why it is mainly used for less expensive sticks like set sticks.
Pecan-Similar to Hickory but much more attractive Pecan is a great wood for drumsticks. It is dense and a bit heavier than Hickory (even the sapwood) as well as more iridescent and lighter in color. I have a large quantity of this since my yard is filled with these trees and limbs tend to fall off during late summer storms.
Persimmon– Considered by many stick afficionados to be the best wood for a concert drumstick Persimmon has a great feel and good consistency but also has a very limited weight range. There is barely any heartwood in this tree since the trunks are usually small in diameter. The weight ranges from 55 to 74 grams. Several years ago, I was lucky enough to find a dead persimmon tree that was the largest one I had ever seen. I bought the tree, cut it down and as a result I have a large supply of this wood and it's of great quality. Persimmon ranges in color from a light tan to a golden yellow (heartwood). Below is a picture of the Persimmon slabs from that tree and some reverse tip persimmon sticks I have made from it.
Purpleheart– While I seldom use this wood for sticks, I will do it by request as I keep a small amount of the heartwood in stock. Working with this Central/South American wood is tricky as it burns quite easily when turning and dulls blades severely. It is gorgeous though and becomes more purple with age. It does not necessarily make a great stick as it tends to vibrate unless a strict length vs. weight vs. diameter formula is applied. If you look at a few of the pictures above, you will see some very purple sticks. That is Purpleheart.
Tigerwood– Also known as Goncalo Alves this Brazilian wood is great for making drumsticks. It is dark brown in color and sometimes contains decorative streaks. It has a huge weight range, 60 to 85 grams. The sapwood is much lighter than the heartwood which can make a stick as heavy as 87 grams.
Yellowheart -another Brazilian hardwood, Yellowheart is similar in properties to Tigerwood. The wood will turn dark yellow with age and makes a good practice stick because of its density. If your favorite color is yellow than this stick is for you.
Zebrawood-is a West African hardwood that is beautiful to look at but hard to work with because of its interlocking open grain. It tends to tear out easily and smells pretty bad when it's still green and being cut up. At one point I had lots of Zebrawood heartwood which made an incredibly beautiful stick, but I ran out and have not been able to find any more of sufficient quality in several years. If any of you have any Zebrawood heartwood let me know. I do have some light sapwood left which makes a lighter stick that is around 55 to 65 grams.
Stick Tips (Beads)
I can make any type of tip, but my favorites are barrel tips and reverse tips. I like the barrel tip for its articulation and the reverse tip for its great roll sound and feel. A custom teardrop tip as you see below adds $15 to the price of the stick.
Length and Weight
I can make a stick any length up to 17.5 inches. The sticks I stock are 161/4″ to 17″ long. A length over that will have too much vibration unless it is very thick. Most of the sticks I make are between 16 and 17 inches. I can make a stick with weights from 50 to 90 grams depending on what wood species I am using. The heartwood of all the species will always be heavier. I have done a lot of experimentation with length, weight and diameter formulas for different species of woods. I can make a recommendation for you if you are unsure about what might work best for your application.
Finish
Unlike some manufacturers I do not stain my sticks preferring to keep them in as natural state as possible. The only finish is a clear protective polyurethane mixed with a little beeswax which improves the grip. I use 4 coats on the sticks and 6 coats on the tips.
Stick Care
I include a care sheet with each pair of sticks I send out. Here is what it says
Thank you for purchasing my drum sticks.
There are a few things you can do that will help the sticks last for many years.
1. If you play on a coated head (pad or real snare drum) lightly sand the beating spot with 400 grit sandpaper. This will keep the tips from being sanded down by the drum head.
2. Every 6 months or so dip the tips in a good quality polyurethane. Flooring Polyurethane works best.
3. No heavy rim shots please. The wood used for these sticks is very hard, much harder than the usual maple or hickory. Heavy rim shots can cause the sticks to split in rare instances.
Here are some videos about the sticks I make
Here is what the customers are saying:
Thanks for the sticks!! They arrived last night and they're beautiful. Wow, they bounce nicely (better than the Greg Bissonettes I've been working with… don't tell Greg that). I'll hazard a guess the bounce comes from the tapper between the shaft and tip, which kind of reminds me of the tapper on the now obsolete Zildjian Tony Williams sticks (I wish those were still available for my rock gigs). The shaft diameters and weights are perfect. I prefer playing with a heavy stick, and always have.

I'm reviewing intros and endings for the music I'm playing tonight using the pair on the Quiet Tone pad and having a ball playing them.

Many Thanks and enjoy your weekend,

Tom B
I became aware of Rick Dior through his YouTube channel. As a professional drummer of 37 years I found the videos very helpful was looking at developing/ the orthodox grip & also have been using the classic book master studies by Joe Morello and he had whole load of stuff about that too & had studied with Joe himself .
As I was using his videos alot I wanted to give something back so decided to invest in some of his custom sticks .
After many very helpful email exchanges I settled on 3 pairs :
Zebra wood barrel tip.
Heavy heartwood Leopard barrel tip.
Black wenge reverse tip.
Also bought 2 pairs of his signature sticks for drum kit use the custom sticks I'll keep for pad work .
The custom sticks are without doubt the best sticks I've ever seen & played .
They feel like musical instruments in themselves , balance , bounce , a very high end piece of work .
Think a drummer friend summed it best :
"they are a work of art "
Worth every penny .
Thanks Rick
Paul Brown,
London
I've just purchased a pair of drumsticks handcrafted by Rick Dior and they are fantastic. They are easily the best made sticks I have ever owned, and I have been playing drums for 56 years. I purchased a pair of Persimmon drumsticks with the "reverse tip" design for the bead and was pleasantly surprised at this stick's versatility. The stick has enough body and tip for that matter to really allow the snare drum to roar but also to whisper with great articulation. The attention to detail in the making of Rick's sticks is second to none. The weight of my sticks are an exact 71 grams each. The symmetry of shape between the two sticks is perfect as well as the pitch. These sticks are a real joy to play with. I use these sticks just for pad work and snare drumming, both classical and rudimental; they are simply the best. Truth be told, I now own five different pairs of Rick's sticks made of different woods like Black Wenge, Leopard Wood and Persimmon with two style of beads reverse tip and barrel shaped. The craftsmanship and attention to detail has a consistency I have never seen before in a handcrafted product and bottom line they just sound great on drums. Rick is great to deal with when ordering and shipping is prompt and carefully packaged. Thanks Rick.

Ron Caruso, Phoenix AZ
"I have been practicing daily on my pad with Rick's heavy 80-gram barrel-tipped Leopardwood Heartwood sticks since they arrived. When compared to any other sticks I have used to build muscle and sensitivity in the hands, fingers and wrists they are in an altogether different league. Warmly recommended and, together with his two excellent books, I know these will be treasured for many years to come."

Stephen- São Paulo, Brazil
I've bought several pairs from Rick now, in all different woods and tapers/tip customizations. They are all top notch and the workmanship is beyond reproach. Rick's communication is great and he does exactly what he says he'll do. The advantage of buying custom sticks from a player is that he knows when the sticks feel good or not, and they do. My 2 cents, if you're getting your first pair from him: go for the Zebrawood. All my Rick Dior sticks feel great, but those are especially sweet! I'll be ordering my next pair before long…

Michael Petrosino, Brooklyn, NY
I just received two pairs of Rick's sticks — the standard model with the barrel tip — in bloodwood and wenge. Despite their girth and mass, they play with a weightless feel. I can detect no difference in tone between the sticks on pad or snare. Never had such a perfect pair. Despite being exactly the same design, the wenge and bloodwood sticks boast a subtly different tone and feel. Both good, just different. Rick responds to email. He ships right away. Easy. The craftsmanship is impressive — and beautiful. I winced when I heard the price, but now I think I underpaid.

Dean Chance
Hi Rick,
Per in Sweden:
The Three Camps and your sticks arrived a week ago.
The book is great, I really like the suggestions on page 44.
About the sticks:
I am a huge fan of flat rides, playing in jazz combos.
I have been searching for years after my "perfect ride cymbal sound".
My conclusion is that the search is over. The sound that I wanted to hear from my cymbal itself is now not the main purpose which one to use. I now realize that it is your stick that has the biggest impact in producing my favorite sound. The stick definition is superb. I played an old scrappy 20" Ufip flat ride I bought for almost nothing yesterday and it sounded amazing with your sticks. Now I will use my money buying your sticks instead. Thanks!!
Kind regards
Per
I've received the pair of 80-gram drumsticks you sent me. They're
beautiful and feel great in my hands. I look forward to practicing with
these sticks for a long time to come.

Thanks again,
Douglas
The reverse tip persimmon concert snare drums sticks are excellent – in weight, balance, feel, and craftsmanship!

Todd S
Hi Rick,
Today the Sticks arrived. They are nearly too beautiful to play with. Well crafted.
Andreas
"I got a pair of leopardwood (heartwood) sticks that are both exactly 65g. They feel great. I've used them daily for warmups and rudimental practice. These sticks are probably the highest quality of this kind I've come across. I highly recommend them!"
Timothy Roberts Reverie Drums
"All my Rick Sticks are in service after 2 years or so. These guys played almost every day. Thanks again!"

Edward Chance

Ed's Sticks
Pricing and How to Purchase
Contact me at rickdior@gmail.com to let me know what you'd like to purchase, and I will respond with your total based on your location and how you would like to pay.
Please remember to send your shipping address so that I know where to send the sticks
In the US, you can pay with Venmo at @RickDior.
You can also pay through Paypal to rickdior@carolina.rr.com (If you use Paypal, a 6% fee will be added to your purchase total).
Mail a check to: Rick Dior, 720 Glendora Drive, Charlotte NC 28212 (Please include a note explaining what the check is for).
Standard Barrel Tip Sticks (sapwood)
$65 / pair plus shipping (see rates at the bottom of this page)
Standard Barrel Tip Sticks (heartwood)
$80 / pair plus shipping (see rates at the bottom of this page)
Cocobolo Rosewood Sticks are $100 as of 10-2022
Ricks Signature Drum Set Sticks
My signature drum set drumsticks are made from Maple and Hickory.
Signature Drum Set Sticks (see video above)
Maple $14 / pair plus shipping
Hickory $16/pair plus shipping
(Please see shipping rates at the bottom of this page)
Engraving
Have your name laser engraved on each stick. $20 for first pair / $10 for each additional pair with the same engraving. When ordering engraving, please send me the exact spelling of your name as you want to see it on the stick. If you have a common font that you like, I will try to use or match it.
Shipping Rates
Shipping rates vary greatly from place to place and from year to year. The shipping cost depends on the weight of the shipment as well as the size of the package/shipping materials and any insurance that is involved.
| | | | |
| --- | --- | --- | --- |
| | United States (except CA, WA, and Puerto Rico) | California, Washington State, and Puerto Rico | Outside the United States |
| One set | $15 | $18 | $35 |
| Two sets | $20 | $20 | $40 |
| Three sets | $25 | $25 | $40 |
Making my Sticks
It all starts with the wood. Whether it's from local sources (including my backyard as in the Pecan I use) or ordered from overseas I use the best wood available. That means purchasing knot free, dried and prime #1 lumber which is expensive and hard to find in the exotic woods I use. When possible, I spend some extra money and purchase the heartwood which is more dense and darker in color than the sapwood.